When Two Become One
presents a compelling vision of God's intentions for lovemaking that will foster a deeper experience of intimacy at every level in your marriage.
The book's most unique feature is The Lovemaking Cycle —an innovative model that captures the heart of truly making love, as contrasted with simply having sex. It conveys God's plan for sexual union and a means of identifying problems that can threaten the beauty of that plan.

---
When Two Become One has become a popular resource in premarital and marriage counseling programs throughout the world.
This book has appeared twice on the Christian Retailing top-sellers list for 2006.
Since its release, the book has been translated into Spanish and a Nigerian English-speaking edition, and a Mandarin (Chinese) translation.
Join thousands of other couples who have ignited the intimate, passionate love God created us to enjoy!
---
---
Just Released in Chinese!!!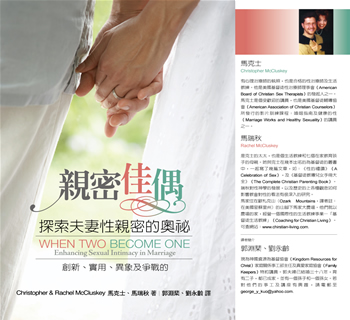 The release this month of the Chinese translation marks a significant step forward in the Chinese Church's ability to address all matters of private life in a culture long-beset by silence.

Translators George and Linda Kuo explain: "We frequently encountered cultural difficulties in translating this vision of sexual intimacy from English to Chinese. For example, the notion of 'playful vulnerability' has no counterpart in Chinese. We have characters representing vulnerability to an enemy, but nothing expressing intentional, joyful transparency and vulnerability to one's spouse. We had to combine several words to approximate the concept."

Listen as Chris and Rachel discuss the important issues regarding intimacy on recent radio broadcasts. Simply click on the title of your choice and it will begin playing.
---
Endorsements

This book is a must-read for couples wishing to enhance their love life.
~Dr. Douglas Rosenau
bestselling author of A Celebration of Sex
I strongly endorse this book. It should be mandatory reading for all pre-marital couples.
~Dr. Archibald D. Hart
dean emeritus,
Fuller Theological Seminary, and bestselling author
---
2007 Marriage Retreat Endorsement
"Chris and Rachel have taken our church into the heart of God, revealing His grand design for human sexuality in a life-transforming way."
~Pastor Terryl Delaney Grace Community